MTP® Cable 12-Strand Corning ClearCurve®, OS2, Type B, Female Key Up to Female Key Up, OFNP, 10 Meters
Model: MTP-B-FF-12-OS2-010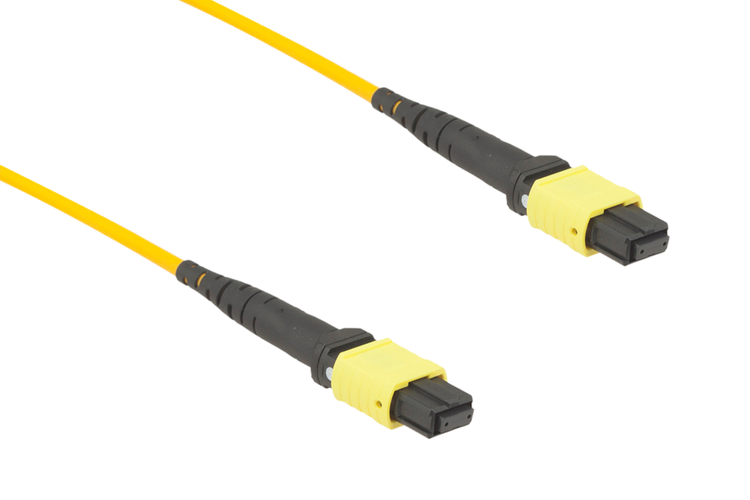 Quick Specs
| | | | |
| --- | --- | --- | --- |
| Length | 10 m | Product Type | Corning |
| Connector 1 | MTP | Connector 2 | MTP |
| Cable Type | OS2 | Mode | Singlemode |
| Connector Type | MTP/MPO | Fiber Strands | 12 Strands |
| Core Size | 9 Micron | Package Quantity | 1 |
| Jacket | OFNP | UL Listed | Yes |
| RoHS Compliant | Yes | Polish Type | APC (Angled Physical Contact) |
| Connector Pairs | MTP - MTP | Polish Type 1 | APC (Angled Physical Contact) |
| Polish Type 2 | APC (Angled Physical Contact) | Mode Conditioning | No |
| Jacket Color | Yellow | Core Material | Corning Glass |
| Brand | CablesAndKits | OM Rating | OS2 |
| Jacket Size | 3.0mm | Jacket Material | OFNP (Plenum) |
Description
MTP Elite® Fiber Cable | OS2 Singlemode | 9/125 | 12 Strand | Female to Female (No Pins) | Type B (Rollover) | OFNP (Plenum) | 10 Meters
Our MTP Elite® line of fiber cables feature high performance US Conec MTP Elite® connectors for the ultimate in functionality and reliability. This highly versatile line of cables are made with Corning ClearCurve® glass and removable housings which allow users to change the gender of the cable in the field. Additionally, they feature a floating ferrule design which helps to improve mechanical performance by allowing two mated ferrules to maintain physical contact even while under an applied load.
Features:
Features US Conec MTP Elite® Connector along with Corning ClearCurve® Fiber for optimized performance
Floating ferrule design ensures integrity of fiber contact
Removable housing allows users to change the gender by adding or removing alignment pins
Highly Durable OS2 9/125 Singlemode Fiber
12 Fiber Strands for High-Density Trunk & Backbone Applications, creating 40G links and more (or utilize 8 of the strands for QSFP+ transceivers)
Tybe B - Key Up to Key Up Polarity Perfect for Connecting Devices Directly or Migrating to a 40G Network
Female to Female Connectors (No alignment pins) Perfect for Connecting to QSFP Transceivers & More
Made with Fire Resistant OFNP (Plenum) Jacket
IEC-61754-7-1, IEC 61754-7-2, and TIA-604-5 (FOCIS-5) Compliant
Quick Specs:
| | |
| --- | --- |
| Connectors | MTP Elite® |
| Strands | 12 Strand |
| Cladding Size | 125 Micron |
| Core Size | 9 Micron |
| Mode | Singlemode |
| Optical Mode | OS2 9/125μm |
| Max Attenuation @ 850nm | 0.35dB |
| Max Attenuation @ 1300nm | 0.2dB |
| Insertion Loss: | 0.35dB or lower |
| Return Loss: | 60db or higher |
| Length | 10 Meters |
| | |
| --- | --- |
| Polish Type | APC (Angled Physical Contact) |
| Color | Yellow |
| Jacket Material | OFNP (Plenum) |
| Jacket Size | 3.0mm |
| Installation Tensile Load | 180 N |
| Long Term Tensile Load | 90 N |
| Operating Temperature | 32°F to 122°F |
| Storage Temperature | 14°F to 140°F |
| RoHS Compliant | Yes |
| Warranty | Lifetime |
The ever increasing demands for higher bandwidth and faster data transfer has led to some incredible innovations in technology. One such innovation is MPO fiber cable. Perfect for high-density environments, Multifiber Push-On (MPO) cables are an excellent way to quickly create high-speed interconnections for a wide range of purposes:
Expanding capacity within an existing 10G network
Migrating a 10G network to 40G or 100G
Creating a connection between two 40G or 100G switches or servers
Creating a connection between optical distribution racks
Whatever you are using them for, MTP®/MPO cables can offer increased capacity to help your network run quickly and efficiently. Our exclusive line of MPO Essentials fiber cables were designed to deliver a quality product at a budget-conscious price. These high-performance cables feature high-quality MTP Elite® connectors on both ends, an OFNP jacket, and come with an Advanced Replacement Lifetime Warranty included at no extra cost!
---
Female to Female Connectors
These fiber cables feature female MTP Elite® connectors on each end. Female connectors do not include alignment pins. These are excellent for connecting to QSFP/QSFP+ transceivers which include the alignment pins as part of the transceiver module. These connectors also feature removable housing allowing users to change the gender by adding or removing guide pins.
Plug-and-Play Design
Our MTP® OM4 fiber cables come pre-terminated with MTP Elite® connectors so they are truly plug-and-play. This results in big time savings and ease of installation in the field.
OFNP Jacket Material
The Optical Fiber Nonconductive Plenum (OFNP) jacket material provides you with the safest cabling as these jackets were engineered to prevent the spread of fire from floor to floor. They feature fire-resistant and low-smoke production characteristics making them an excellent jacket when safety is a priority.
Angled Physical Contact (APC) Polish
These OS2 MTP® cables feature Angled Physical Contact (APC) polish connectors which help to minimize back reflection.
12 Strand Fiber
These MTP® cables feature 12 strands, making them incredibly versatile. Utilize all 12 strands to establish a 40G connection, back end trunk connections, or a connection between two high density patch panels. This fiber allows you to utilize all 12 strands or the outer 8 bands, depending on your needs.
Type B Polarity
Also known as Rollover, Inverted, or Reversed, these type b cables have one end wired exactly opposite from the other end. This effectively "rolls over" the wires. This means that the fiber located at Position 1 on one end arrives at Position 12 on the other end. These are typically used to connect a device to a router or switch's console port.
General Fiber Cabling Videos:
MPO Fiber Connectors Explained
---
Warranty
Awesome is GUARANTEED.
Risk Free Purchase, Hassle Free Returns. AWESOME is GUARANTEED
After receiving your order, take a full month to try it out. If you decide it's not right for you, or if you're not completely satisfied in every way - if it's not AWESOME, we'll take it back and refund your money. Your complete satisfaction is GUARANTEED or your money back. That's Awesome.
Awesome That Never Ends.
Everything you purchase from CablesAndKits is covered by a LIFETIME Warranty including a LIFETIME Advance Replacement Guarantee. The AWESOME never ends.
We understand that in the event of a product malfunction or failure long downtimes are not an option. If you experience a malfunction or failure with a product at any point during your ownership we'll ship a replacement the same day you report the issue. We'll even expedite the shipment if requested, with an effort to provide a delivery date and time that meets your needs. That's Awesome.
Terms and Conditions apply. Click here for details.