HP X121 Gigabit-SX-LC Mini-GBIC SFP Transceiver, J4858C, Refurbished, Original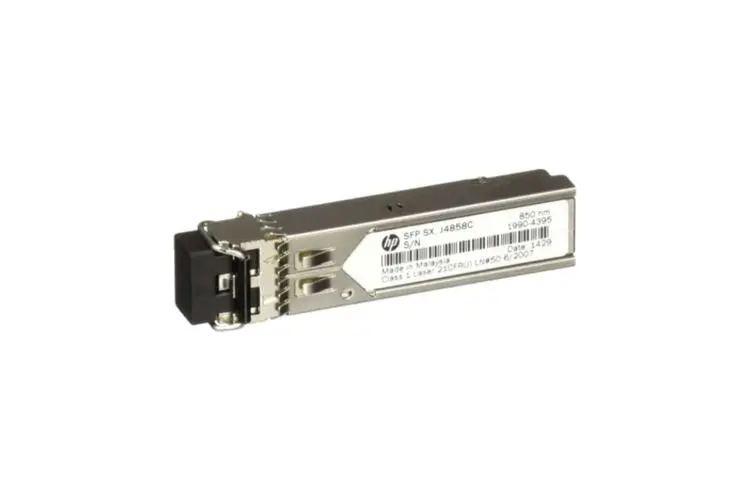 Factory Sealed
HP
$92.99
CablesAndKits
$99.99
CK Certified Refurbished
HP
$38.69
Ships In 6 - 7 Business Days
Same Day Shipping till 6pm
Quick Specs
Cable Type
Multimode Fiber (MMF)
Compatibility
HP
Connector Type
LC
Transceiver Type
SFP
Speed
Gigabit
Display Condition
Refurbished
Interface
LC Duplex
Wavelength
850 nm
Data Transfer Rate
1Gbps
Rate Category
1000Base-SX
Hot Swappable
Yes
Reach
50m
Brand
HP
Description
HPE Original | HP X121 | 1000Base-SX | 1G | SFP (mini-GBIC) | 850nm | Refurbished | J4858C
The HPE J4858C transceiver module is a small form-factor pluggable (SFP) Gigabit transceiver module. This SFP provides Gigabit SX connectivity and was designed for use with the HP ProCurve Gigabit Ethernet series of routers and switches. The J4858C module feautres duplex LC connectors and operates on an 850nm wavelength. This module is also hot-swappable so it can be switched out with ease.
This module supports a link length of up to 500 meters over OM2 multi-mode fiber..
Cabling Maximum Distance:
2-220m (62.5 µm core diameter, 160 MHz*km bandwidth)
2-275m (62.5 µm core diameter, 200 MHz*km bandwidth)
2-500 m (50 µm core diameter, 400 MHz*km bandwidth)
2-550 m (50 µm core diameter, 500 MHz*km bandwidth)
Compatibility:
J9559A
JG708A
J9661A
J9662A
J9663A
JD986B
J9664A
JH016A
JH017A
JH018A
JH019A
JH327A
JH328A
JH329A
JH330A
JG708B
J9800A
J9801A
J9979A
J9982A
J9980A
J9983A
J9981A
J9984A
JG538A
JG536A
JG540A
JG537A
JG539A
JG920A
JG921A
JG922A
JG923A
JG924A
JG925A
JG961A
JG962A
JG963A
JG315B
JD318B
JD319B
JD320B
JD313B
J9311A
J9310A
JL256A
JL254A
JL258A
JL255A
JL253A
JL259A
JL261A
JL262A
JL260A
J9573A
J9574A
J9575A
J9576A
J9585A
J9586A
J9587A
J9588A
J9584A
JL071A
JL072A
JL073A
JL074A
JL075A
JL076A
J9642A
J9643A
J9533A
J9532A
J9539A
J9540A
Media:
What is an SFP? And why you need one.
What Is An SFP?
Warranty
Awesome is GUARANTEED.
Risk Free Purchase, Hassle Free Returns. AWESOME is GUARANTEED
After receiving your order, take a full month to try it out. If you decide it's not right for you, or if you're not completely satisfied in every way - if it's not AWESOME, we'll take it back and refund your money. Your complete satisfaction is GUARANTEED or your money back. That's Awesome.
Awesome That Never Ends.
Everything you purchase from CablesAndKits is covered by a LIFETIME Warranty including a LIFETIME Advance Replacement Guarantee. The AWESOME never ends.
We understand that in the event of a product malfunction or failure long downtimes are not an option. If you experience a malfunction or failure with a product at any point during your ownership we'll ship a replacement the same day you report the issue. We'll even expedite the shipment if requested, with an effort to provide a delivery date and time that meets your needs. That's Awesome.
Terms and Conditions apply. Click here for details.