Cisco 3850 Series UPOE 48 Port Switch, LAN Base, WS-C3850-48U-L, Refurbished, Original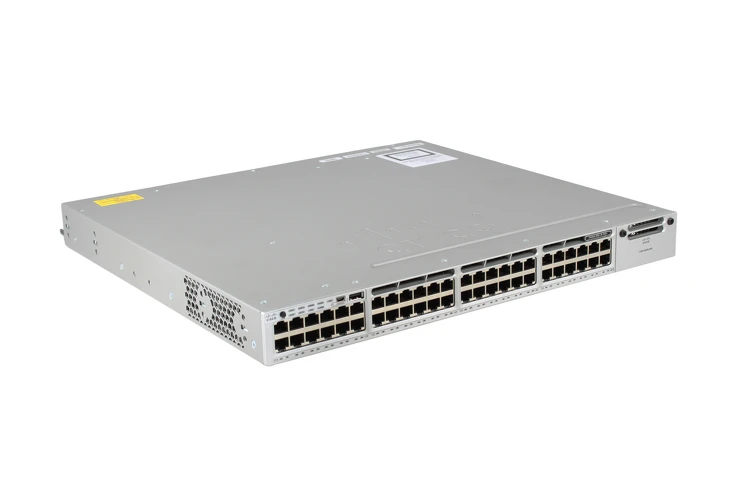 Ships In 6 - 7 Business Days
100% Satisfaction Guarantee
Same Day Shipping till 6pm
Quick Specs
| | | | |
| --- | --- | --- | --- |
| Port Quantity | 48 | Series | Catalyst 3850 |
| Rack Units | 1RU | Software | LAN Base |
| OSI Layer | L2 | Stacking | Stackable |
| Deployment Pack | No | Energy Efficient | Yes |
| PoE Compatibility | UPoE | Port Speed | 10/100/1000 |
| Ram | 4 GB | Model | WS-C3850-48U-L |
| Flash | 2 GB | Ports | 48 10/100/1000 |
| Min Operating Temp | 23° F | Max Operating Temp | 113°F |
| Jumbo Frame Support | 9,198 byte | Predicted Reliability | 205,110 hours |
| Mac Addresses | 32K | Vlan Ids | 4K |
| Min Storage Temp | -40°F | Max Storage Temp | 158ºF |
| Operating Humidity | 10 to 95% (noncondensing) | Storage Humidity | 10 to 95% (non-condensing) |
| Ac Input Voltage | 115-240 VAC | Fans | 3 Total, Redundant |
| Stacking Bandwidth | 480 Gbps | Available PoE Power | 800W |
| Forwarding Rate Based On 64-Byte Packets | 130.95 mpps | Power Specifications | 115-240VAC, 50-60Hz, 12-6A |
| Operating Temp | 23°F to 113°F | Storage Temp | -40 to 158°F (-40 to 70°C) |
| Max Active VLANS | 4k | Switched Virtual Interfaces (SVI's) | 1000 |
| Brand | Cisco | DRAM | 4 GB |
| Total System Ports | 48 | Max Routed Ports | 208 |
| Product Depth | 19.2 in | Product Height | 1.75 in |
| Number Of Ports _x000D_ That Support PoE | 48 | Number Of Ports That Support PoE | 48 |
| Product Width | 17.5 in | Maintenance | None |
Description
Cisco Catalyst 3850 Series | 48 Port | 10/100/1000 | UPoE | Lan Base | Stackable Data & Power | WS-C3850-48U-L
Includes Accessory Kit (Rackmount Ears and Screws, Power Cable, and Console Cable).
The Cisco 3850 Series of switches is an industry-leading, enterprise-class series of access switches that offers superior performance, scalability, and reliability. The Catalyst 3850 Series is the first to feature a built-in wireless controller with up to 40 Gbps of capacity on 48-port models. Further, it supports up to 100 access points and 2,000 wireless clients per switching entity (or stack). These switches are stackable up to 9 members and come equipped with Cisco's popular StackPower technology. StackPower is an innovative power sharing and redundancy technology that allows members of the stack to share in one of two power pooling topologies. The first, power sharing mode, aggregates then distributes the power among the stack. Power is dynamically allocated where it's needed. The second, redundant mode, polls the stack, identifies the supply with the greatest wattage then reserves its use for failure. Power is then allocated to the stack from the remainder of the supplies. Once the reserved power supply is activated, the stack migrates to power sharing mode automatically. This technology eliminates the need for an external RPS unit and allows users to simply add another power supply for either redundancy or additional power to the pool.
Features:
Converged Wired & Wireless Access Over a Single Platform - The Cisco Catalyst 3850 Series of switches bundles wired and wireless features into a single Cisco IOS Software image which allows users to reduce the number of software images that users need to qualify and certify before enabling them in their network. Further, the wired and wireless convergence increases the bandwidth & scalability of these switches.
Integrated Wireless Controller - This is the first Cisco Catalyst series to include an integrated wireless controller. This allows for the wired/wireless convergence noted above. The integrated controller is 802.11ac-ready and can function well in large networks with a high wireless throughput of up to 40 Gbps.
Up to 40 Gb of Capacity per Switch - All 48 port models are capable of delivering up to 40 Gbps of wireless throughput. This wireless capacity also increases with additional members in the stack making it highly scalable. The 24 and 12 port switch models are capable of delivering up to 20 Gbps of wireless throughput.
Supports up to 100 Access Points & 2,000 Wireless Clients - These switches are able to support up to 100 access points and 2,000 wireless clients per switching entity (switch or stack).
Equipped With Cisco StackWise-480 Technology - This is Cisco's premium stacking architecture which provides for both scalability and resiliency by providing up to 480 Gbps of stack throughput. It uses Cisco's IOS Software Stateful Switchover (SSO) technology to provide for added resiliency within the stack.
Equipped With Cisco StackPower Technology - This innovative power interconnect system allows for power stacking among stack members. This allows the power supplies within the stack to be shared as a common resource among all the switches in that stack for a high level of power redundancy.
Standard Features:
Flexible NetFlow (FNF)
Control and Provisioning of Wireless Access Points (CAPWAP)
Dynamic Host Configuration Protocol (DHCP)
Stacking Master Configuration Management
Cisco StackWise-480
Autonegotiation
Dynamic Trunking Protocol (DTP)
Port Aggeration Protocol (PAgP)
Link Aggeration Protocol (LACP)
Automatic Media-Department Interface Crossover (MDIX)
Switching Database Manager (SDM)
Local Proxy Address Resolution Protocol (ARP)
Unidirectional Link Detection Protocol (UDLD)
Smart Multicast, With Cisco FlexStack-Plus Technology
Internet Group Management Protocol (IGMP)
Voice VLAN
Cisco VLAN Trunking Protocol (VTP)
Layer 2 Trace Route
Trivial File Transfer Protocol (TFTP)
Network Timing Protocol (NTP)
Private VLANs
Access Control Lists (ACL's)
Secure Shell (SSH) Protocol
MAC Address Notification
Bridge Protocol Data Unit (BPDU)
IGMP Filtering
Cross-Stack EtherChannel
Flexlink
Power Redundancy
QoS
Media:
What Is A Network Switch?
Basics of Network Switches
Time to Upgrade to a 3850?
Technology is advancing every single day. What was once a wired world is now a wireless and cloud based networking environment. Just like your business changes over a decade, so does the technology behind it. Cisco has seen the changing technology landscape and has answered the many questions that we ask ourselves as IT professionals. Can my wireless integrate to my switch? Why are there so many different devices to run my network? How much speed do I need? Can I bring my own device to my network? Cisco has gone above and beyond with their new Catalyst 3850 series of switches.
The new Cisco 3850 series switch is a new layer switch that allows for full wired and wireless junction on a single multilayer switch platform. Cisco's new Unified Access Data Plane (UADP) application-specific integrated circuit (ASIC) powers the switch and enables uniform wired-wireless policy enforcement, application visibility, flexibility and application optimization.This junction between wired and wireless is built on the Cisco StackWise-480 technology. The Cisco 3850 series switches support full IEEE 802.3at Power over Ethernet Plus (PoE+), Cisco Universal Power over Ethernet (Cisco UPOE is not offered on all models), plug and play network modules, RJ45 and fiber-based downlink interfaces, and redundant fans and power supplies. With speeds that reach 10Gbps, the Cisco 3850 Multigigabit Ethernet Switches support current and next-generation wireless speeds and standards including 802.11ac Wave 2.
The Cisco 3850 will generate up to 40 Gigs of wireless capacity per switch (on 48 port models). Even when acting independently, each switch has the ability to support up to 100 individual access points and 2000 wireless clients. The Stackwise-480 technology will enable the switch to operate at a speed of 480 Gbps of stack throughput/bandwidth. The 3850 models have speed ratings based on the type of the switch. The 24 and 48 port version has 10/100/1000Mbps data, Poe+, and UPOE options. There is also a 12 and 24 port: 1 and 10 gigabit Ethernet SFP based models. Each switch has the option of adding an additional uplink modules. 4 x Gigabit Ethernet, 2 x 10 Gigabit Ethernet, 4 x 10 Gigabit Ethernet, 8 x 10 Gigabit Ethernet, or 2 x 40 Gigabit Ethernet QSFP+ ports.
Cisco's innovative wireless design has integrated the ability to BYOD or bring your own device. Each switch will have; integrated wireless LAN (local area network) controller, commonly used wired and wireless features, UADP (Unified Access Data Plane) ASIC for wired and wireless convergence, application visibility across both wired and wireless networks, and Hierarchical wireless QoS. Security on these devices will include; Native Flexiable Netflow, Cisco TrustSec/SGT (Securit Group Tag) for both wired and wireless, and Native MACsec encryption. The Cisco 3850 also as simplicity and SDN (software defined networking) for ease of use and set up.
Warranty
Awesome is GUARANTEED.
Risk Free Purchase, Hassle Free Returns. AWESOME is GUARANTEED
After receiving your order, take a full month to try it out. If you decide it's not right for you, or if you're not completely satisfied in every way - if it's not AWESOME, we'll take it back and refund your money. Your complete satisfaction is GUARANTEED or your money back. That's Awesome.
Awesome That Never Ends.
Everything you purchase from CablesAndKits is covered by a LIFETIME Warranty including a LIFETIME Advance Replacement Guarantee. The AWESOME never ends.
We understand that in the event of a product malfunction or failure long downtimes are not an option. If you experience a malfunction or failure with a product at any point during your ownership we'll ship a replacement the same day you report the issue. We'll even expedite the shipment if requested, with an effort to provide a delivery date and time that meets your needs. That's Awesome.
Terms and Conditions apply. Click here for details.