Cisco 3750X Series 48 Port Switch, WS-C3750X-48P-L, Refurbished, Original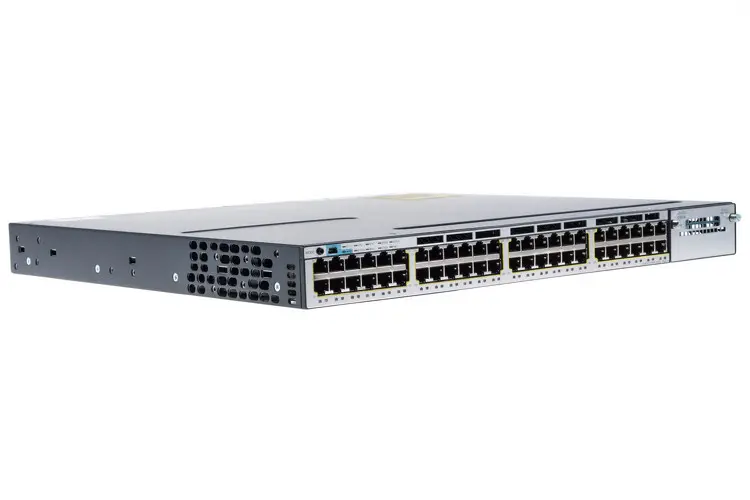 Refurbished
24 Port
$181.99
48 Port
$186.99
100% Satisfaction Guarantee
Same Day Shipping till 6pm
Quick Specs
Port Quantity
48
Series
Catalyst 3750X
Rack Units
1RU
Software
LAN Base
OSI Layer
L2
Stacking
Stackwise, StackWise Plus, StackPower
Hot Swappable Modules
Yes
Hot Swappable Fans
Yes (2 Modular Fans)
Hot Swappable Power Supply
Yes
Energy Efficient
EnergyWise Efficient
PoE Compatibility
PoE+
Port Speed
10/100/1000
Ram
256 MB
Flash
64 MB
Ports
48 10/100/1000
Min Operating Temp
23° F
Max Operating Temp
113°F
Jumbo Frame Support
9216 bytes
Predicted Reliability
139,913 hours
Mac Addresses
6K
Vlan Ids
4K
Min Storage Temp
-40°F
Max Storage Temp
158ºF
Operating Humidity
5 to 95% (non-condensing)
Storage Humidity
5 to 95% (non-condensing)
Ac Input Voltage
100 to 240 VAC
Fans
2 Total, Redundant
Stacking Bandwidth
160 Gbps
Unicast Routes
8K
Available PoE Power
435W
Forwarding Rate Based On 64-Byte Packets
101.2 mpps
Power Specifications
100-240VAC, 50-60 Hz, 10-5A
Max Active VLANS
1005
Switched Virtual Interfaces (SVI's)
1000
Brand
Cisco
DRAM
256 MB
Product Depth
18.0 in
Product Height
1.75 in
Product Width
17.5 in
Description
WS-C3750X-48P-L | Cisco Switch | Catalyst 3750X | 48 Port | PoE+
Includes Accessory Kit (Rackmount Ears and Screws, Power Cable, and Console Cable).
Cisco 3750 X switches help maximize productivity by giving IT managers the tools needed to support enterprise applications and advanced traffic management. With an array of network modules and redundant power supply options available, these switches can be customized and scaled to support nearly any application. Additional options for the 3750X include Gigabit and 10GE uplink ports, PoE+ and non-PoE support, redundant fans and an array of port densities allow the devices to be tailored and customized. Standard features include StackPower power sharing and StackWise Plus logical port aggregation (64Gbps of through put). Software upgrades include MACsec (Media Access Control Security), OSPF (Open Shortest Path First) routed access, multicast routing, IPv4 and IPv6 support and advanced QoS (Quality of Service). Hardware security, Cisco Energywise power management and type A and B USB interfaces are also standard. These feature rich, fixed configuration devices are the switch of choice for medium to enterprise business looking to maximize IT budgets while maintaining rich functionality and a borderless experience.
Features:
48 x 10/100/1000 PoE+ ports with a 435 watt power supply with LAN Base software.
Cisco EnergyWise Technology and StackPower technology allow for superior energy management and redundancy. Energy Efficient Ethernet reduces energy uses of an etherent port wihtout affecting vital functions
Cisco Smart Operations including: Cisco Smart Install which allows for quick plug and play configuration, Cisco Auto Smartports provide auto configuration when new devices connect to the switch port, Cisco Smart Configuration which allows for a single point of management for a group of switches and Cisco Smart Troubleshooting gives an array of debug diagnostic commands and system health checks within the switch.
Additional Features:
Cisco AutoSecure
Dynamic Host Configuration Protocol (DHCP)
Stacking Master Configuration Management
Autonegotiation
Dynamic Trunking Protocol (DTP)
Port Aggeration Protocol (PAgP)
Link Aggeration Protocol (LACP)
Automatic Media-Department Interface Crossover (MDIX)
Switching Database Manager
Local Proxy Address Resolution Protocol (ARP)
Multicast VLAN Registration (MVR)
Unidirectional Link Detection Protocol (UDLD)
VLAN1 Minimization
Smart Multicast, With Cisco FlexStack-Plus Technology
Internet Group Management Protocol (IGMP)
Voice VLAN
Cisco VLAN Trunking Protocol (VRP)
Layer 2 Trace Route
Trivial File Transfer Protocol (TFTP)
Network Timing PRotocol (NTP)
Mac-based VLAN Enabling
Cisco TRUSTSec
Comprehensive 802.1X
IPv6 First-Hop Secuirty
Device Sensor and Device Classifier
Private VLANs
Access Control Lists (ACL's)
Secure Shell (SSH) Protocol
MAC Address Notification
Bridge Protocol Data Unit (BPDU)
IGMP Filtering
Cross-Stack EtherChannel
Flexlink
IEEE 801.1s/w Rapid Spanning Tree Protocol (RSTP)
Power Redundancy
Cisco Hot Standby Router Protocol (HSRP)
Coss-stack QoS
Rating Limiting
801.1p Class of Service
StackPower is a innovative power sharing and redundancy technology available on the Cisco 3750-X series of switches. As long as the switch is running LAN Base IOS 15.0(2) software version or later, you can interconnect up to (4) 3750X's in series using the CAB-SPWR-xxxCM cable. This configuration allows members of the stack to share in one of two power pooling topologies. The first, power sharing mode, aggregates then distributes the power among the stack. Power is dynamically allocated where its needed. The second, redundant mode, polls the stack, identifies the supply with the greatest wattage then reserves its use for failure. Power is then allocated to the stack from the remainder of the supplies. Once the reserved power supply is activated, the stack migrates to power sharing mode automatically. This technology eliminates the need for an external RPS unit and allows users to simply add another power supply for either redundancy or additional power to the pool.
StackWise Plus improves upon the established stacking architecture, StackWise. This technology allows up to 9 switches, or (432) 10/100/1000 ports, to be logically aggregated and managed using a single IP address, command line or telnet session. In addition, StackWise Plus is backwards compatible with older 3750 and 3750-E switches running standard StackWise while maintaining an increased throughput of 64Gbps.
PoE+ (or 802.at) builds on the legacy of Cisco's industry leading PoE (802.af) and Inline Power legacy. This new power delivery method allows 30W of power per port to PD's (Powered Devices) as opposed to 15.4W with standard PoE. This decreases deployment costs and TCO by eliminating the need for power runs to the PD instillation location. Automatic power negotiation manages power consumption and keeps wattage transmission from the switch at the appropriate levels eliminating electrical waste. In addition, PoE+ devices are backwards compatible with older PoE 802.3af, so you get the best of both worlds!
The 3560-X and 3750-X series of switches are also equipped with a network module slot that accepts one of four optional modules for up-linking. With a combination of copper, SFP and SFP+ support these modules continue to lower the TCO and add the flexibility and investment protection you need. This 3750X-48P-L has 48, 10/100/1000 Etherent auto-sensing ports and (1) NM slot.
The WS-C3750X-48P-L will enhance productivity and lower cost by giving users controlled, managed and highly available access to the applications and borderless experience that drives today's communication.
Warranty
Awesome is GUARANTEED.
Risk Free Purchase, Hassle Free Returns. AWESOME is GUARANTEED
After receiving your order, take a full month to try it out. If you decide it's not right for you, or if you're not completely satisfied in every way - if it's not AWESOME, we'll take it back and refund your money. Your complete satisfaction is GUARANTEED or your money back. That's Awesome.
Awesome That Never Ends.
Everything you purchase from CablesAndKits is covered by a LIFETIME Warranty including a LIFETIME Advance Replacement Guarantee. The AWESOME never ends.
We understand that in the event of a product malfunction or failure long downtimes are not an option. If you experience a malfunction or failure with a product at any point during your ownership we'll ship a replacement the same day you report the issue. We'll even expedite the shipment if requested, with an effort to provide a delivery date and time that meets your needs. That's Awesome.
Terms and Conditions apply. Click here for details.