Cisco Catalyst 9300 Series Network Module, (2) 25 Gigabit Ethernet Ports, Refurbished, C9300-NM-2Y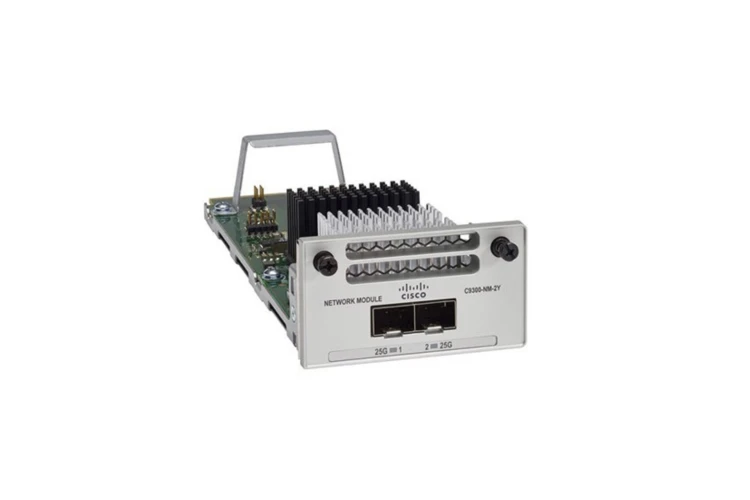 Condition
CK Certified Refurbished
$2,309.99
Factory Sealed
$2,529.99
Ships In 6 - 7 Business Days
100% Satisfaction Guarantee
Same Day Shipping till 6pm
Quick Specs
Port Quantity
2
Series
Catalyst 9300
Product Type
Expansion module
Form Factor
Plug-In Module
Connector Type
Wired
Port Type
25 Gigabit Ethernet
Group On
Condition
Data Transfer Rate
25 Gbps
Brand
Cisco
Description
Cisco Catalyst 9300 Series Expansion Module | 2 x 25G Ethernet Ports | Modular Uplink | Refurbished | C9300-NM-2Y
This modular uplink features two 25 Gigabit Ethernet ports and is compatible with the Cisco Catalyst 9300 series of switches.
Features:
(2) 25G Ports
Compatible with Cisco Catalyst 9300 Series Switches
Quick Specs:
| | |
| --- | --- |
| Manufacturer | Cisco |
| Model # | C9300-NM-2Y |
| Condition | Refurbished |
| Ports | (2) 25 Gigabit Ethernet |
| Weight | 1.35 lbs |
| | |
| --- | --- |
| Product Type | Expansion Module |
| Form Factor | Plug In Module |
| Slot Type | 25G SFP28 |
| Data Transfer Rate | 25 Gbps |
| Warranty | Lifetime |
Compatible Transceivers:
GLC-GE-100FX
SFP-H25G-CU1M
SFP-H25G-CU2M
SFP-H25G-CU3M
SFP-H25G-CU5M
SFP-25G-AOC1M
SFP-25G-AOC2M
SFP-25G-AOC3M
SFP-25G-AOC5M
SFP-25G-AOC7M
SFP-25G-AOC10M
SFP-25G-SR-S
SFP-10G-SR
SFP-10G-SR-S
SFP-10G-SR-X
SFP-10G-LR
SFP-10G-LR-S
SFP-10G-LR-X
SFP-10G-ER
SFP-10G-ER-S
SFP-10G-BXD-I
SFP-10G-BXU-I
SFP-10G-BX40D-I
SFP-10G-BX40U-I
SFP-H10GB-CU1M
SFP-H10GB-CU3M
SFP-H10GB-CU5M
SFP-H10GB-ACU7M
SFP-H10GB-ACU10M
SFP-10G-AOC1M
SFP-10G-AOC2M
SFP-10G-AOC3M
SFP-10G-AOC5M
SFP-10G-AOC7M
SFP-10G-AOC10M
CWDM-SFP10G-XXXX
GLC-T
GLC-TE
GLC-BX-D
GLC-BX-U
GLC-BX40-D-I
GLC-BX40-U-I
GLC-BX80-D-I
GLC-BX80-U-I
GLC-BX40-DA-I
GLC-EX-SMD
SFP-GE-T
GLC-SX-MM-RGD
GLC-LX-SM-RGD
GLC-ZX-SM-RGD
GLC-SX-MMD
GLC-LH-SMD
GLC-ZX-SMD
GLC-ZX-SMD
CWDM-SFP-XXXX
DWDM-SFP-XXXX
SFP-H10GB-CU1-5M
SFP-H10GB-CU2M
SFP-H10GB-CU2-5M
SFP-10/25G-CSR-S
SFP-10/25G-LR-S
SFP-25G-AOC4M
SFP-H25G-CU1.5M
SFP-H25G-CU2.5M
SFP-H25G-CU4M
Media:
What Is A Network Switch?
Cisco Catalyst Switches Product Guide
Difference Between 3850 and 9000 Series Switches
Warranty
Awesome is GUARANTEED.
Risk Free Purchase, Hassle Free Returns. AWESOME is GUARANTEED
After receiving your order, take a full month to try it out. If you decide it's not right for you, or if you're not completely satisfied in every way - if it's not AWESOME, we'll take it back and refund your money. Your complete satisfaction is GUARANTEED or your money back. That's Awesome.
Awesome That Never Ends.
Everything you purchase from CablesAndKits is covered by a LIFETIME Warranty including a LIFETIME Advance Replacement Guarantee. The AWESOME never ends.
We understand that in the event of a product malfunction or failure long downtimes are not an option. If you experience a malfunction or failure with a product at any point during your ownership we'll ship a replacement the same day you report the issue. We'll even expedite the shipment if requested, with an effort to provide a delivery date and time that meets your needs. That's Awesome.
Terms and Conditions apply. Click here for details.