Connecting Multiple Switches
It's why many modern switches come pre-designed to work in a stack, cluster, or other configuration. The goal is to connect multiple switches together in order to improve the network.
Why Connect Multiple Switches Together?
What is the purpose of connecting multiple switches? In most cases, the goal is to expand network access. When you connect switches, you get more ports that can be used, and that means more devices can utilize the network.
Depending on the configuration, connecting multiple switches can also increase the bandwidth of the network. This is important for any demanding network that is short on total bandwidth.
How to Connect Switches
There are a lot of ways to connect switches. You can daisy chain them, star link them, cascade them, cluster them or stack them. In most modern networks, cascades, clusters, and stacks tend to be more prevalent. That is because they offer specific benefits that many modern network designers find admirable.
Going through these three common ways of connecting can highlight specific attributes that make each configuration better or worse, depending on what you need.
Cascading
Cascading is a technique where each switch is connected via multiple ports to the other switches. By using this configuration, you gain freedom in the configuration and management of the switch cascade. One switch can control them all, or any switch can be independently managed. No switch has to be a slave to a master switch, but the option exists.
Configuring switches in this way provides the highest potential number of connected switches. There is no hard, logical limit to the number of switches that you can place in a cascade. On the other hand, cascade configurations do not increase bandwidth for the network.
Mostly, cascading is very good for mixing and matching switches from different manufacturers or designs.
Lastly, in a cascade, each switch has its own IP address.
Stacking
Stacking is a method that is designed to maximize port access (not necessarily the total number of ports). In a stack, port density is equal to the sum of all of the ports on all of the switches in the stack. That said, there is a theoretical limit to the number of switches that can be stacked. That limit is set by design, and you can look it up for the given model.
That leads to another important point. When you stack switches, they have to be compatible with each other. In most cases, that means you must stack multiple of the same model of switches.
For these trade-offs, stacking boosts network bandwidth substantially. In a stack, bandwidth can be combined across switches on the stack to reach greater total data throughput rates.
As for management, one switch manages the entire switch, with the potential to set a backup switch that maintains the stack in the event that the primary master switch fails.
One other note relating to stacks: one IP address is used for the entire stack.
Clustering
Clustering is a bit of a combination of the ideas involved in cascades and stacks. With this configuration, one device handles the logic to manage all of the other switches connected to it. This is not a daisy chain, though. Instead, each additional switch connects directly to the command switch.
An important point to note is that the command switch is assigned a single IP address, which is sufficient for the whole cluster.
There is a hard limit to the number of switches you can have in a single cluster (determined by the available ports on the command switch). Since clustering can mirror cascading and/or stacking, bandwidth gains depend on how you design the cluster. If you use stacking in your cluster, then you can net bandwidth gains from the configuration. If you cascade your cluster, then there are no bandwidth gains.
Lastly, you cannot mix and match models in a cluster. Only cluster-compatible switches will work together.
There is often a best way to connect multiple switches. It depends on what you really need out of your network. When you take the time to learn how the different configurations compare, you can strategize around the best configuration and budget yogurt networking switches appropriately.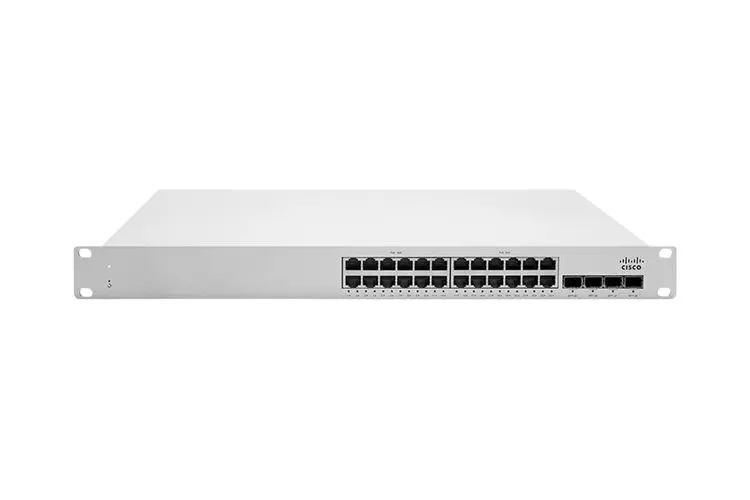 Cisco Meraki Cloud Managed Switch, 24 Gigabit Ethernet Ports, 4 SFP+ Uplinks, PoE, MS225-24P-HW, Unclaimed, Refurbished, Original
Additional Learning Center Resources