Cisco Catalyst 3850 Series Rack Mount Kit, 19", C3850-RACK-KIT=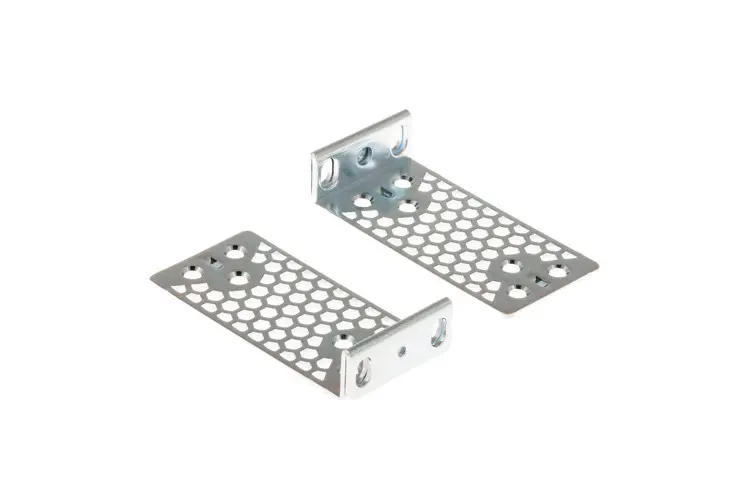 6,465 In Stock - Ships Monday
Same Day Shipping till 6pm
Quick Specs
Series
Catalyst 3850
Equipment Type
Cisco Switches
Brand
CablesAndKits
Description
Rack Mount Kit | Cisco 3850 Series | 19"
The Cisco Catalyst 3850 Series Rack Mount Kit, C3850-RACK-KIT, is a professional-grade accessory meticulously designed to seamlessly integrate Cisco Catalyst 3850 Series switches into standard 19-inch racks. It offers a secure and efficient solution, optimizing space utilization and enhancing network infrastructure.
With the inclusion of both left and right mounting brackets and the necessary screws, the C3850-RACK-KIT ensures a precise and hassle-free installation process. Its robust construction and use of high-quality materials guarantee a secure fit for the Cisco Catalyst 3850 switches within the rack.
Additionally, the C3850-RACK-KIT promotes proper airflow and ventilation around the Cisco 3850 series, effectively preventing overheating and ensuring optimal performance and reliability.
For businesses relying on the Cisco Catalyst 3850 Series switches, the C3850-RACK-KIT is an essential accessory that enables secure, efficient, and space-saving rack integration. Investing in this rack mount kit will elevate your network infrastructure, providing a dependable and scalable network solution.
Features:
Cisco Model No: C3850-RACK-KIT
The weight of the product is 0.2 lbs.
Product type: Rack Mount Kit.
2 brackets for left and right mounting are included/li>
Rackmount is compatible with the Cisco 3850 series.
24 Port Compatibility:
WS-C3850-24T-L
WS-C3850-24P-L
WS-C3850-24U-L
WS-C3850-24T-S
WS-C3850-24P-S
WS-C3850-24S-S
WS-C3850-24U-S
WS-C3850-24T-E
WS-C3850-24S-E
WS-C3850-24P-E
WS-C3850-24U-E
48 Port Compatibility:
WS-C3850-48T-L
WS-C3850-48P-L
WS-C3850-48F-L
WS-C3850-48U-L
WS-C3850-48T-S
WS-C3850-48P-S
WS-C3850-48F-S
WS-C3850-48U-S
WS-C3850-48T-E
WS-C3850-48P-E
WS-C3850-48F-E
WS-C3850-48U-E
Warranty
Awesome is GUARANTEED.
Risk Free Purchase, Hassle Free Returns. AWESOME is GUARANTEED
After receiving your order, take a full month to try it out. If you decide it's not right for you, or if you're not completely satisfied in every way - if it's not AWESOME, we'll take it back and refund your money. Your complete satisfaction is GUARANTEED or your money back. That's Awesome.
Awesome That Never Ends.
Everything you purchase from CablesAndKits is covered by a LIFETIME Warranty including a LIFETIME Advance Replacement Guarantee. The AWESOME never ends.
We understand that in the event of a product malfunction or failure long downtimes are not an option. If you experience a malfunction or failure with a product at any point during your ownership we'll ship a replacement the same day you report the issue. We'll even expedite the shipment if requested, with an effort to provide a delivery date and time that meets your needs. That's Awesome.
Terms and Conditions apply. Click here for details.