Combining Simplicity & Power: Introducing Meraki by Cisco
Simple by design. Meraki seamlessly combines the simplicity of a cloud-managed dashboard with the power of enterprise-grade hardware to meet the demands of next-gen wired and wireless networks.
SHOP ALL MERAKI SMART IT
Meraki Switches
Meraki switches offer zero-touch provisioning, and can be configured entirely from a web browser.
Pioneering network topology and remote packet capture features simplify troubleshooting, especially for remote locations.
Physical or Virtual Stacking
Meraki switches feature an industry-first technology known as virtual stacking. This feature allows users to create a virtual logical stack of thousands of switches without having to physically stack them, making for simple, centralized management. Certain models also support physical stacking.
Cloud Management
The entire Meraki network of devices is managed through the Meraki Dashboard. This cloud, web-browser based interface is a true "single pane of glass" that allows users to quickly and easily manage their network of devices, including switches.
Reduced Total Cost of Ownership
Meraki switches are high-quality, high-performing, robust, and long-lasting solutions that help to reduce total cost of ownership over time. Many Meraki switches include advanced features that will help to future-proof your network and allow you to run these devices for years to come.
Troubleshooting
The Meraki Dashboard includes powerful remote troubleshooting tools including dynamic network topology, cable testing, remote packet captures, and many other tools, all of which significantly enhance multi-site troubleshooting even in locations where IT is not present.
Increased Security
Meraki leverages Cisco's industry-leading securty expertise to bring advanced security features to Meraki switches. These switches make wired security easy to manage and configure with network-wide access policies that can apply to thousands of switches and ports. Extend security to your endpoints with Meraki Systems Manager.
Energy Savings
Reducing power consumption through intelligent PoE energy budgeting and port scheduling features reduces the annual energy costs of running switches and powered devices like phones and access points.
Meraki MS120 Series
Cisco Meraki MS120 switches provide Layer 2 access switching, and features a variety of power options.
With 5 different models, capable of providing up to 740W of power over a variety of port densities, including SFP capable uplinks, the MS120 line is fully ready to support future wireless infrastructure deployments across a variety of different environments.
Model Comparison
| | 1GbE RJ45 | 1GbE SFP | Dedicated Mgmt Interface | Max Switching Capacity | PoE/PoE+ Capable |
| --- | --- | --- | --- | --- | --- |
| MS120-8FP | 8 | 2 | - | 20 Gbps | Yes, 124W |
| MS120-24P | 24 | 4 | 1 | 56 Gbps | Yes, 370W |
| MS120-48FP | 48 | 4 | 1 | 104 Gbps | Yes, 740W |
---
Meraki MS225 Series
The Cisco Meraki MS225 series switches provide layer 2 access switching and are ideal for deploying to branch locations. With stacking capabilities and 10G SFP+ uplinks on every model, performance is guaranteed. This family also supports an optional, rack-mountable remote PSU (Cisco RPS-2300) for power redundancy requirements.
Features:
Gigabit access switching with 24- and 48- port models and optional PoE+ support up to 740W


Stacking-compatible with the MS210


(4) 10G SFP+ uplink interfaces on all models


Dual stacking interfaces with up to 80 Gbps of bandwidth


Non-blocking switch backplane with up to 176 Gbps bandwidth support


6 configurable QoS queues for converged voice, video, and data applications


---
Meraki Switch Best Sellers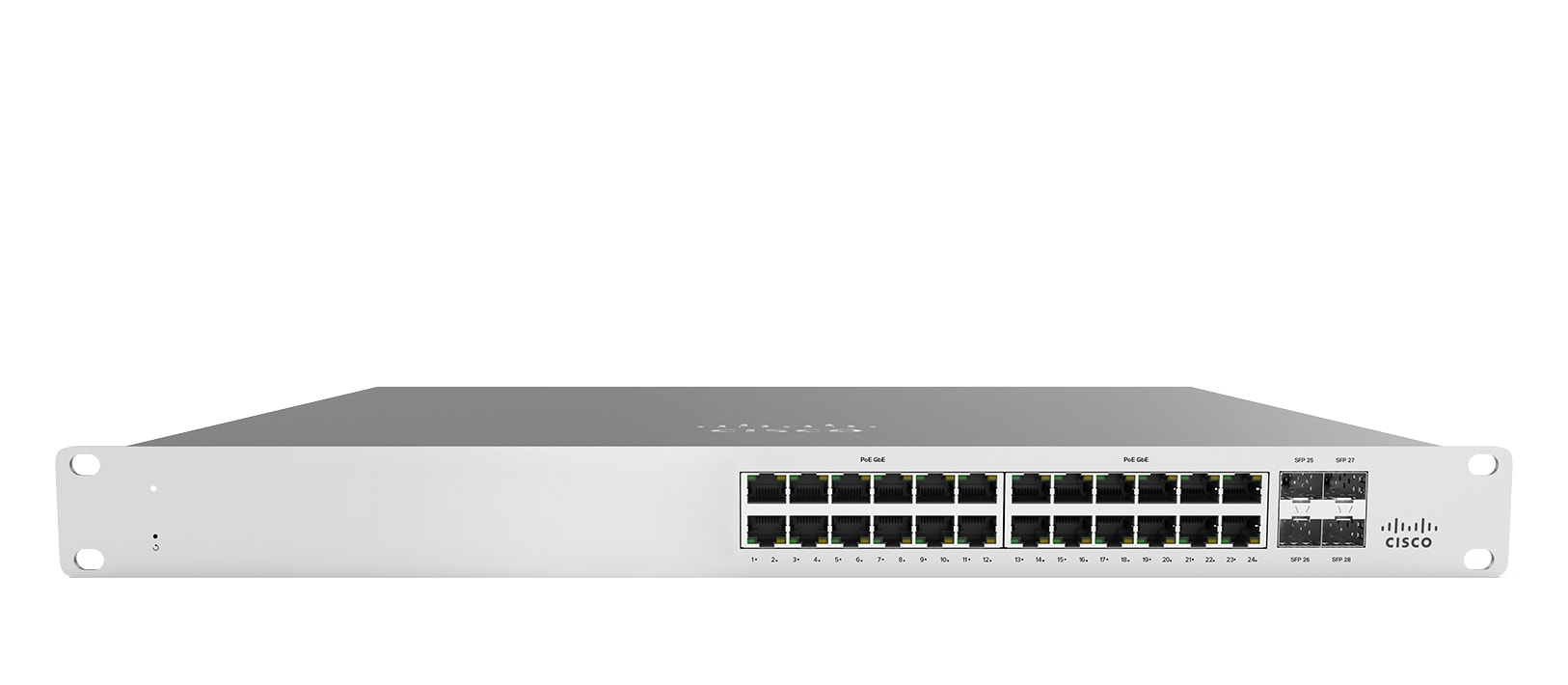 Meraki MS120 Series 24 port PoE+ switch with (4) 1G SFP uplink, 370 watts of available PoE power, and Meraki cloud management.
SHOP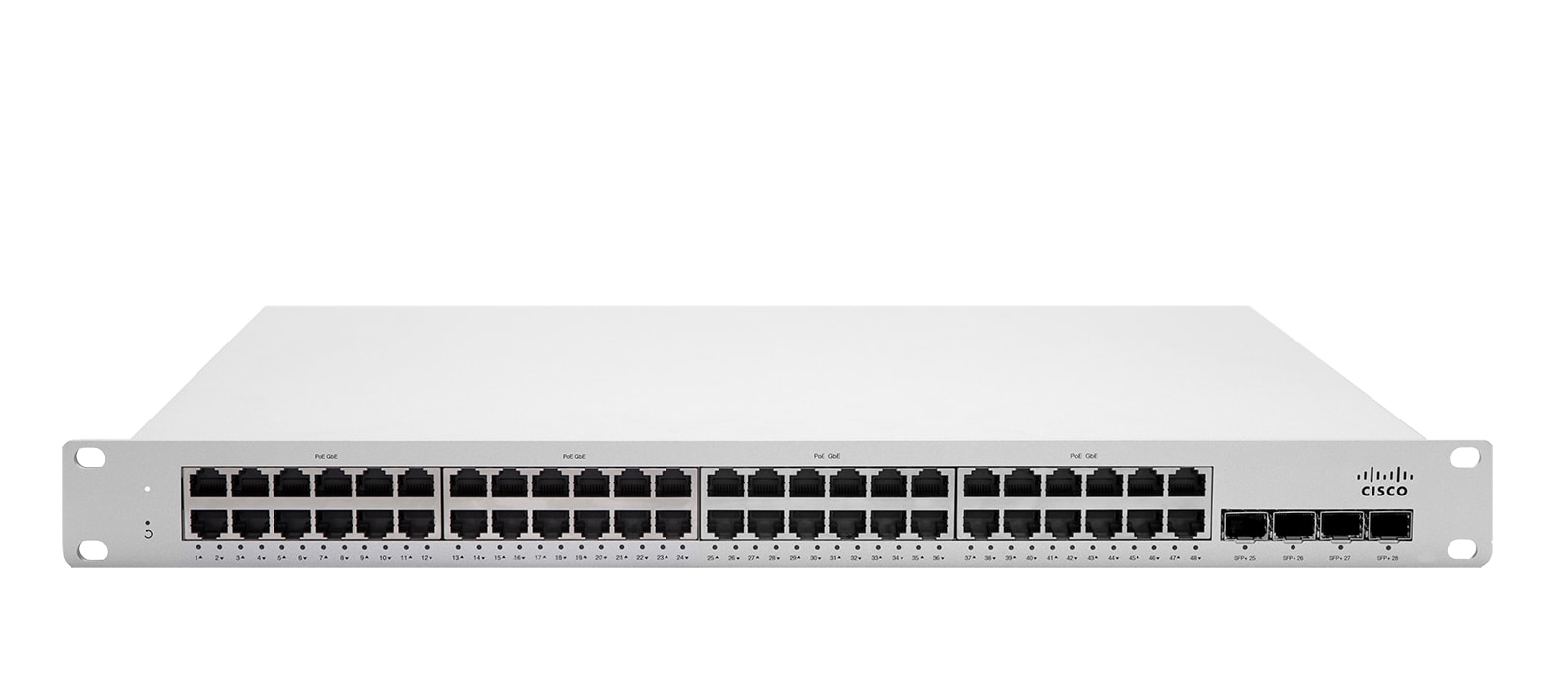 Meraki MS225 Series 48 port PoE+ switch with (4) 10G SFP+ uplinks, 740 watts of hot-swappable PoE+ power, and Meraki cloud management.
SHOP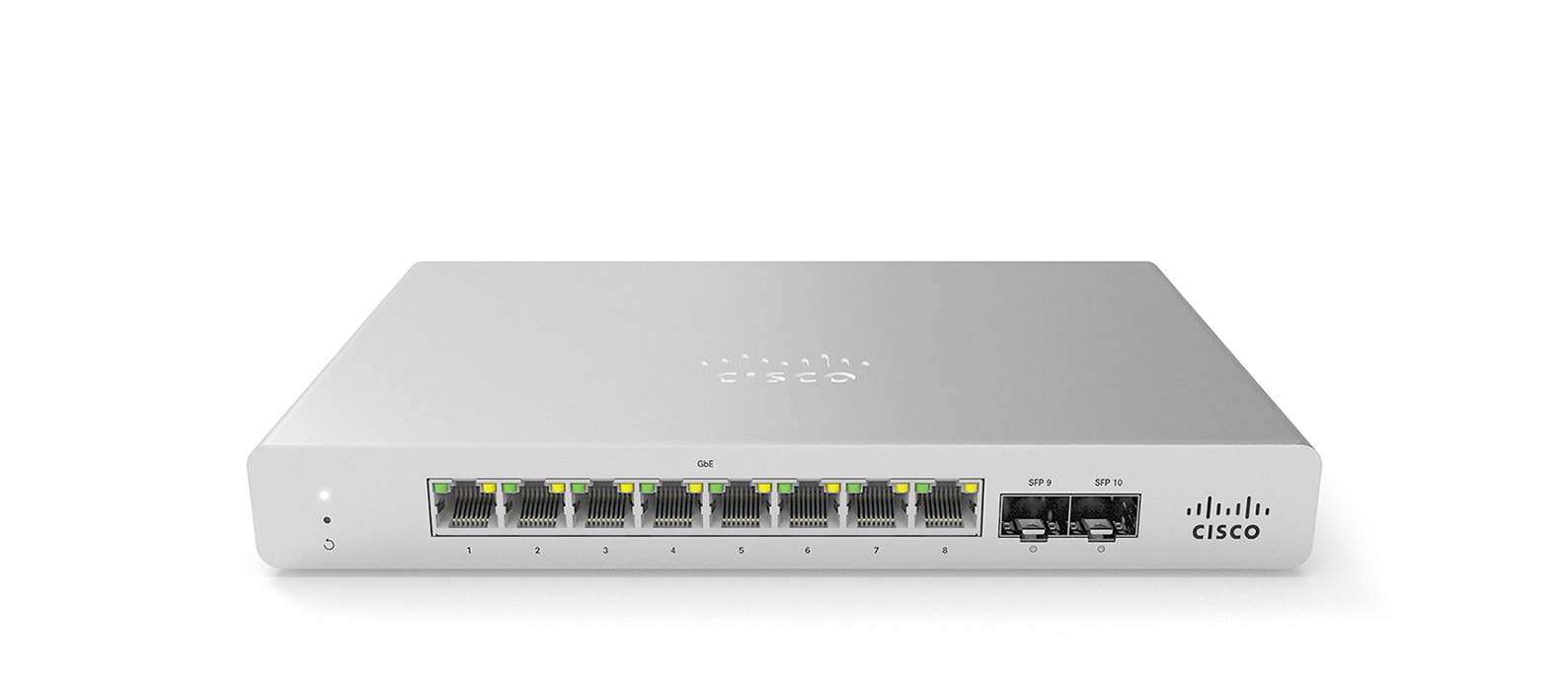 Meraki MS120 Series 8 port PoE+ switch with (2) 1G SFP uplink, 124 watts of PoE+ power, and Meraki cloud management.
SHOP
Meraki Wireless
Reliably deliver new mobile experiences with future-proof wireless.
Centralized Management
Seamlessly manage campus-wide Wi-Fi deployments and distributed multi-site networks from a single pane-of-glass with the Meraki Dashboard.
Location Analytics
Reveal powerful metrics such as visitor capture rate, user visit time, and repeat visits by listening for wireless devices.
Dedicated Security Radio
Instantly detects interference, vulnerabilities, and attacks, across all channels.
High-Efficiency Wireless
Cisco Meraki access points are built from the highest grade components and carefully optimized for a seamless user experience.

The outcome: faster connections, greater user capacity, more coverage, and fewer support calls.


---
Meraki Wireless Access Points
802.11ac Wave 2, 3x3 MIMO, Dedicated Security & Bluetooth Beacons. Supports up to 50 users
Condition: Refurbished
SHOP
802.11ac Wave 2, 4x4 MIMO, Dedicated Security & Bluetooth Beacon. Supports up to 100 users.s
Condition: Refurbished
SHOP
802.11ac Wave 2, 2x2 MIMO, Bluetooth and security radio. Supports up to 30 users.
Condition: Factory Sealed
SHOP
Meraki Network Security and SD-WAN
Meraki MX security & SD-WAN appliances offer integrated and best-in-class enterprise security capabilities all informed by world-renowned security research team, Cisco Talos.
Centralized Management
Centrally manage consolidated security and SD-WAN infrastructure from an intuitive web GUI or APIs.
Auto VPN
Create a secure and optimized SD-WAN fabric between business and private/public multi-cloud locations in three clicks.
High Availability and Failover
Automatic WAN and device redundancy leveraging multiple uplinks, warm spare, and self-healing VPN.
SD-WAN in Three Clicks
The MX appliances elegantly create a framework for Cisco SD-WAN powered by Meraki by securely auto-provisioning IPsec VPN tunnels between sites. The Meraki dashboard automatically negotiates VPN routes, authentication and encryption protocols, and key exchange for all Meraki MX appliances in an organization to create hub-and-spoke or mesh VPN topologies.


---
Meraki Security and SD-WAN
Meraki MX68 features (10) 1GbE LAN (2 PoE+) and (2) 1GbE WAN interfaces. Stateful firewall throughput: 450 Mbps
Condition: Refurbished
SHOP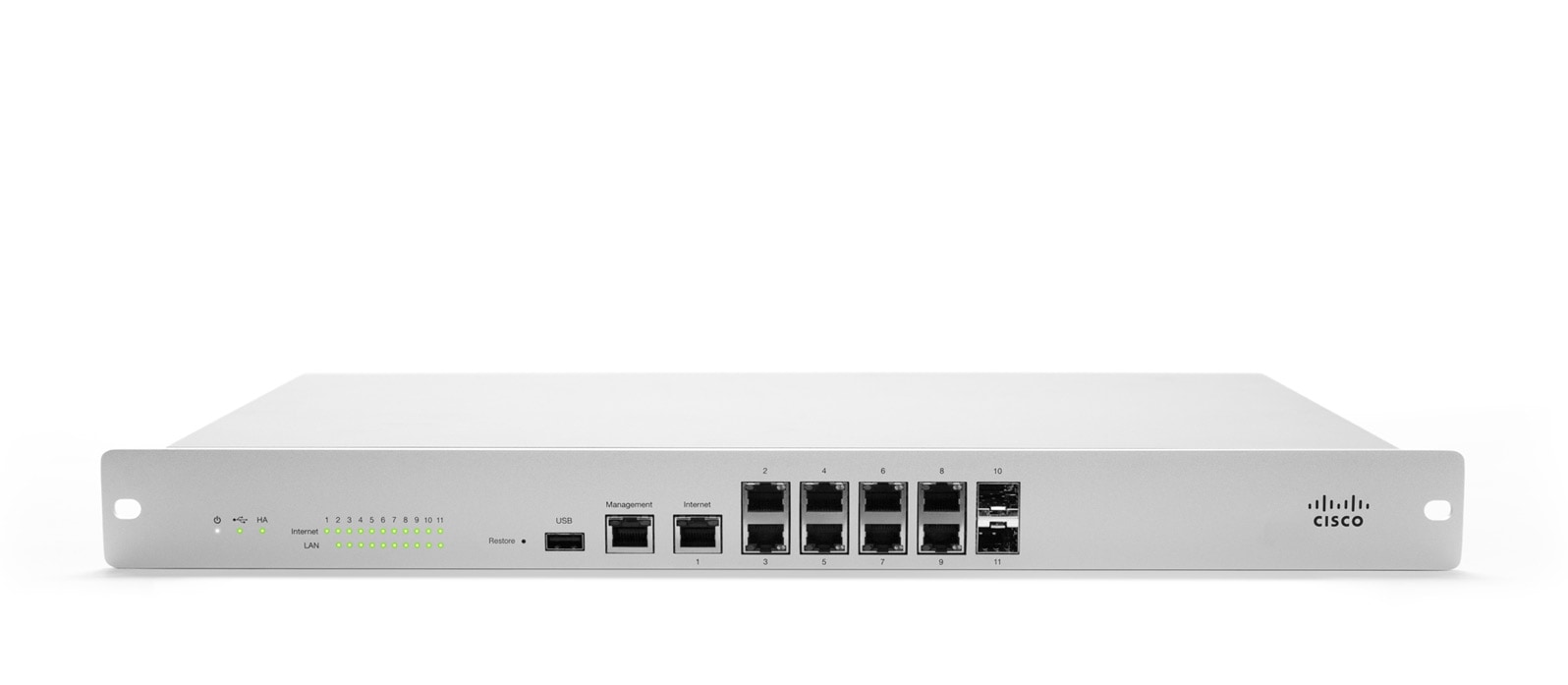 Meraki Cloud Managed Networking and Security Hardware Appliance - Gigabit SFP connectivity - Stateful firewall throughput: 750 Mbps
Condition: Refurbished
SHOP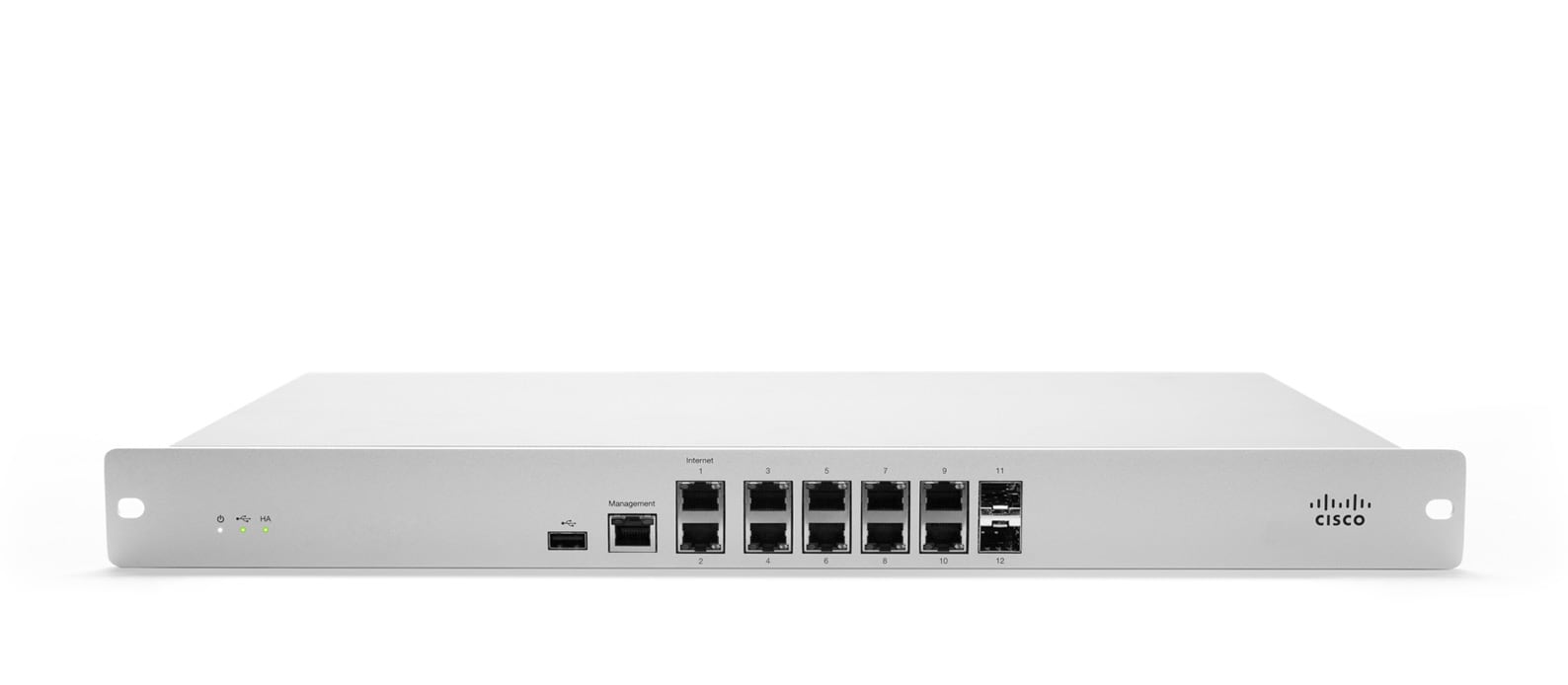 Meraki Cloud Managed Networking and Security Hardware Appliance - Gigabit SFP connectivity - Stateful firewall throughput: 500 Mbps
Condition: Refurbished
SHOP
Why Choose CK?
Risk Free Purchase, Hassle Free Returns. AWESOME is GUARANTEED
Lifetime Warranty
Everything you purchase from CablesAndKits is covered by a LIFETIME Warranty including a LIFETIME Advance Replacement Guarantee!
Same Day Shipping
Orders will be processed and shipped the same day till 6pm!
30 Day Money Back Guarantee
After receiving your order, take a full month to try it out. If you are not completely satisfied in every way, we will take it back and refund your money!