2m LC-LC OM5 Corning Multimode Duplex 50/125 Fiber Optic Cable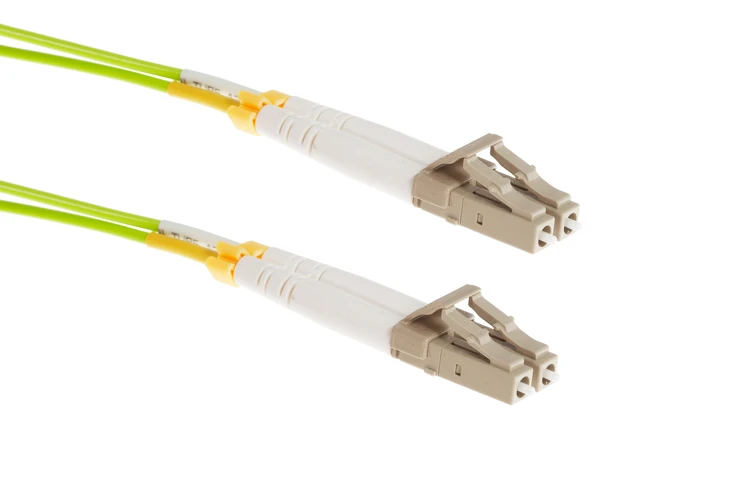 Quick Specs
Length
2 m
Product Type
Corning
Connector 1
LC
Connector 2
LC
Cable Type
OM5
Mode
Multimode
Connector Type
Standard
Fiber Strands
Duplex
Core Size
50 Micron
Connectors
LC
Package Quantity
1
Jacket
LSZH
Polish Type
UPC (Ultra Physical Contact)
Connector Pairs
LC - LC
Polish Type 1
UPC (Ultra Physical Contact)
Polish Type 2
UPC (Ultra Physical Contact)
Mode Conditioning
No
Jacket Color
Lime
Core Material
Corning Glass
Brand
CablesAndKits
Marketplace Package Qty
Pack of 1
OM Rating
OM5
Jacket Size
2.0mm
Description
2 Meter | OM5 Premium Corning Fiber Optic Patch Cable | 100 Gigabit | Multimode Duplex | LSZH Jacket | 50/125 | Standard Connectors
OM5 fiber cables, the first approved as WBMMF (Wide Band Multimode Fiber), have been created to specifically handle high speed data center applications with using two fibers to transmit from 40GBs up to 100GBs. With the emergence of SWDM (Shortwave Wavelength Division Multiplexing) applications in data centers, OM5 fiber cables provide optimal support and performance at the higher speeds. Even with the high speed, OM5 fiber cables are backward compatible with existing OM4 applications and networks.
Our OM5 wideband multimode fiber cables, made with Corning optical fiber glass, have been created with the future of where networks and applications are going in mind. These fiber cables are designed with superior quality to run your network with the highest performance, speed, and reliability. The cables are thinner than basic fiber cables, with a 2.0mm outer diameter and a LSZH (Low Smoke Zero Halogen) jacket, an even safer alternative to only OFNR riser rated cables, these cables are designed to provide the highest protection for businesses, people, and equipment in case of being exposed to high sources of heat, flames, or corrosion. With the high durability, safety and performance you can trust these OM5 cables to deliver the efficiency and peace of mind that you need for your business.
Our CablesAndKits Premium OM5 fiber cables come in 2 connector types - Standard and Uniboot w/Push-Pull Tab.
The standard unibody, short boot connector on the OM5 fiber cables provide you with the normal fiber cable experience with a high-quality performance and ease of use, as well as the ability to reverse polarity when needed.
Our high-density OM5 uniboot / unibody fiber optic cables have two fibers carried through a single jacket with a lower profile boot, reducing the size and surface area of the cables when compared to standard fiber optic cables, but continuing to provide the reliable performance from industry standard connectors. Uniboot fiber cables reduce cable management requirements and allow for better airflow. The smaller ""short boot"" connector on our premium fiber cables makes it easy to reverse the polarity of the cables when needed.
The OM5 high-density Push-Pull Tab connector / boot on our fiber optic cables have a special tab that will allow easy insertion and removal of the connector without the need to access the boot or connector. The slim, low profile uniboot design allows this high-density installation cabling to be used with minimal cable management and save space in your network setup. These fiber cables have the same type of short boot connector as the regular uniboot/unibody cables, but with the push-pull tab, still allowing you to reverse the polarity when needed.
Our premium fibers cables have been tested and meet the standards for fire rating (OFNR), Riser Rating, IEC, Telcordia, UL and RoHS.
Standard Features:
100M (328 ft) @ 100Gbps (can vary depending on optical transceiver, modal bandwidth and wavelength)
150M (492 ft) @ 40Gbps (can vary depending on optical transceiver, modal bandwidth and wavelength)
400M (1312 ft) @10Gbps (can vary depending on optical transceiver, modal bandwidth and wavelength)
550M (1804 ft) @ 1Gbps (can vary depending on optical transceiver, modal bandwidth and wavelength)
2000M (6562 ft) @ 100Mps (can vary depending on optical transceiver, modal bandwidth and wavelength)
Media:
Whats the difference in the Optical Modes?
Why IT Pros Prefer Fiber
Warranty
Awesome is GUARANTEED.
Risk Free Purchase, Hassle Free Returns. AWESOME is GUARANTEED
After receiving your order, take a full month to try it out. If you decide it's not right for you, or if you're not completely satisfied in every way - if it's not AWESOME, we'll take it back and refund your money. Your complete satisfaction is GUARANTEED or your money back. That's Awesome.
Awesome That Never Ends.
Everything you purchase from CablesAndKits is covered by a LIFETIME Warranty including a LIFETIME Advance Replacement Guarantee. The AWESOME never ends.
We understand that in the event of a product malfunction or failure long downtimes are not an option. If you experience a malfunction or failure with a product at any point during your ownership we'll ship a replacement the same day you report the issue. We'll even expedite the shipment if requested, with an effort to provide a delivery date and time that meets your needs. That's Awesome.
Terms and Conditions apply. Click here for details.