AC Power Cord, C14 to C13, 14 AWG, 8ft, Black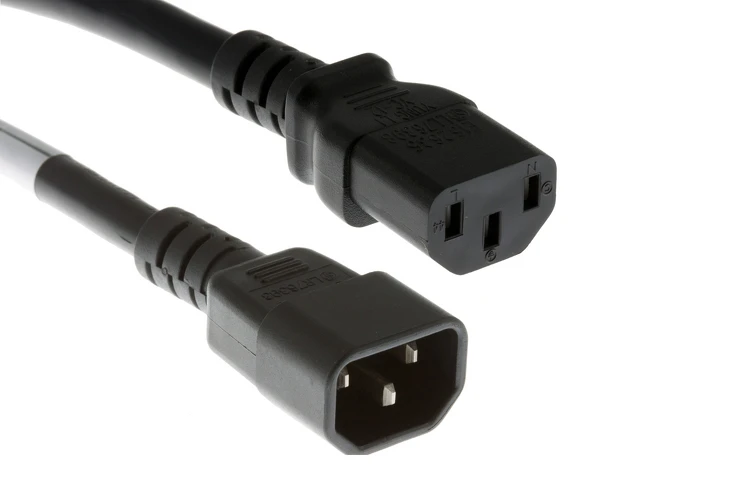 Quick Specs
Length
8 ft
Color
Black
Connector 1
C14
Connector 2
C13
Rating
15A/250V
Connectors
C14 - C13
AWG
14 AWG
Jacket
SJT
UL Listed
Yes
RoHS Compliant
Yes
Supply End
IEC-60320-C14
Equipment End
IEC-60320-C13
Brand
CablesAndKits
Region Compatibility
United States
Jacket Material
SJT
Description
C6260098 | AC Power Cord | C14 to C13 | 14 AWG | 8 ft | Black
Power cords play a pivotal role in connecting electrical equipment to other power sources. They are used in various settings, such as homes, offices, industrial facilities, and data centres and are designed to safely deliver electricity from power outlets or power distribution units to devices, providing the necessary energy for them to operate. The 8 ft AC Power Cord, C14 to C13, in sleek black color is a timesaving and a pocket friendly solution designed to power various electronic devices. With a C14 male connector on one end and a C13 female connector on the other, it seamlessly connects devices to power sources. The 14 AWG thickness ensures safe and efficient power transmission. Whether for home, office, or industrial use, this power cord caters to diverse power needs.
Supply End:
C14, or IEC60320-C14, is a 3 prong, male connector commonly used as a PDU supply end and computer power supply.These ends plug into a C13, or IEC60320-C13.
Equipment End:
C13, or IEC60320-C13 is a 3 prong, female connector commonly used on the end of computer and networking device power cords.These ends plug into a C14, or IEC60320-C14.
Features:
Equipment end of the power cord is an IEC-60320-C13 female connector
Supply end of the power cord is a IEC60320-C14 male connector
The power cord has a maximum current rating of 15 amps and can handle up to 250 volts
Ideal for use as a power cord and monitor cable extensions
The cord extends to a length of 8 ft
Warranty
Awesome is GUARANTEED.
Risk Free Purchase, Hassle Free Returns. AWESOME is GUARANTEED
After receiving your order, take a full month to try it out. If you decide it's not right for you, or if you're not completely satisfied in every way - if it's not AWESOME, we'll take it back and refund your money. Your complete satisfaction is GUARANTEED or your money back. That's Awesome.
Awesome That Never Ends.
Everything you purchase from CablesAndKits is covered by a LIFETIME Warranty including a LIFETIME Advance Replacement Guarantee. The AWESOME never ends.
We understand that in the event of a product malfunction or failure long downtimes are not an option. If you experience a malfunction or failure with a product at any point during your ownership we'll ship a replacement the same day you report the issue. We'll even expedite the shipment if requested, with an effort to provide a delivery date and time that meets your needs. That's Awesome.
Terms and Conditions apply. Click here for details.