OM3 Fiber Patch Cables
OM3 10Gb fiber cables are a cost-effective solution for many modern-day network setups, and they're still one of the most popular fiber optic cable types used in networks and data centers. As the minimum performance standard for effective data center speed and management OM3 multimode fiber cables are an excellent choice to provide the bandwidth your business needs. With our new Corning OM3 fiber optic cables, your network will experience an even higher level of safety and reliability with Corning fiber glass and LSZH jackets. Available with many connector options such as LC, SC, and ST combinations, as well as connector and jacket types.
If you need help finding the solution that fits your network, call or chat with one of our advisors today. Our Fiber Cable Experts are here to help!
Recommended By Our Experts: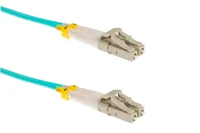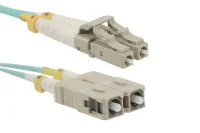 OM3 10Gb Fiber Patch Cables – Multimode 50/125 Fiber Optic Cables
Our LC, SC, ST OM3 fiber optic cables have a variety of uses and come in a wide variety of different lengths to suit your project. Plus, each 10Gb fiber cable is constructed of lightweight, thin, and durable materials to ensure your information is secure and immune to environmental factors. Choose from standard or upgrade to premium Corning glass.
OM3 fiber cables are laser-optimized to deliver improved bandwidth compared to OM1 and OM2 optic cables. With many connector variations such as LC-ST, SC-ST, and LC-LC multimode OM3, along with many length options, we have the OM3 multimode fiber cabling ready for your specific installation.
New high-density uniboot push-pull tab fiber cables are now available! With the slim cable and boot design, these OM3 fiber optic cables give you the high performance of standard connectors but make high-density cable deployments easy and cable management a breeze.
Fiber Optics Articles & Info