Cisco 1-Port T1/E1 Multiflex Interface Card, VWIC2-1MFT-T1/E1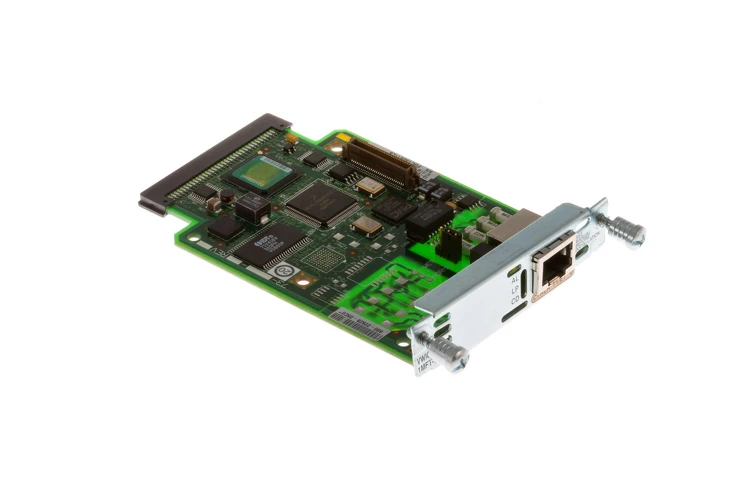 Ships In 6 - 7 Business Days
Same Day Shipping till 6pm
Quick Specs
Port Quantity
1
Series
2800
Module Type
Multiflex Voice and WAN
Group On
Condition
Brand
Cisco
Description
VWIC2-1MFT-T1/E1 | Cisco T1/E1 Multiflex Interface Card | 1 Port
The Cisco Second generation 1- and 2 port T1/ E1 Multi Flex Trunk Voice /WAN interface (MFT(VWIC2s) supports data and voice applications on the CISCO 1721(data only), 1751 and 1760 Modular access routers, the Cisco 2600XM Multiservice router, The Cisco 2691 Multiservice Platform, The Cisco 3662 Telco Versatile DCN Access platform, Cisco 3725 and 3745 Multiservice Routers and the Cisco 1841(data only), 2801,2811,2821,2851,3825 and 3845 Integrated Service Routers.
The module combines WAN- interface-card (WIC) and voice- interface-card (VIC) functions to provide exceptional flexibility, versatility and investment protection for businesses through its many uses. Users may choose to integrate data and voice in multiple steps as the interface card can be reused in packet voice applications.
The module supports both the G.703 and G.704 standards and can operate in either fractional or channelized mode. It is commonly used in enterprise networks, service provider networks, and other environments where T1 or E1 connectivity is required. It also offers enhanced echo-cancellation capabilities for highly demanding network conditions
The interface cards are offered in a single and dual port version. This becomes very convenient as they can be used and then redeployed as network requirements change hence addressing many applications.
Features:
The VWIC2-1MFT-T1/E1 is a high-performance, flexible interface card
Support for T1 and E1 connections
Flexible configuration options
High-speed data transmission
Enhanced security features
Supported platforms with a minimum 12.3(14)T IOS requirement:
1721, 1751, and 1760 WIC/VWIC slots
1751 and 1760 VIC slot for voice applications only
2691 and 2600XM WIC slots
2600XM with Voice-Capable or Data-Only Network Modules
3662 Telco Verasite DCN Access Platform with Voice-Capable or Data-Only Network Modules
3700 WIC slots
3700 with Voice-Capable or Data-Only Network Modules
2800 and 3800 HWIC slots
2800 and 3800 with Voice-Capable or Data-Only Network Modules
Warranty
Awesome is GUARANTEED.
Risk Free Purchase, Hassle Free Returns. AWESOME is GUARANTEED
After receiving your order, take a full month to try it out. If you decide it's not right for you, or if you're not completely satisfied in every way - if it's not AWESOME, we'll take it back and refund your money. Your complete satisfaction is GUARANTEED or your money back. That's Awesome.
Awesome That Never Ends.
Everything you purchase from CablesAndKits is covered by a LIFETIME Warranty including a LIFETIME Advance Replacement Guarantee. The AWESOME never ends.
We understand that in the event of a product malfunction or failure long downtimes are not an option. If you experience a malfunction or failure with a product at any point during your ownership we'll ship a replacement the same day you report the issue. We'll even expedite the shipment if requested, with an effort to provide a delivery date and time that meets your needs. That's Awesome.
Terms and Conditions apply. Click here for details.