Cisco Catalyst 2960X Series 19" Rack Mount Kit, Compatible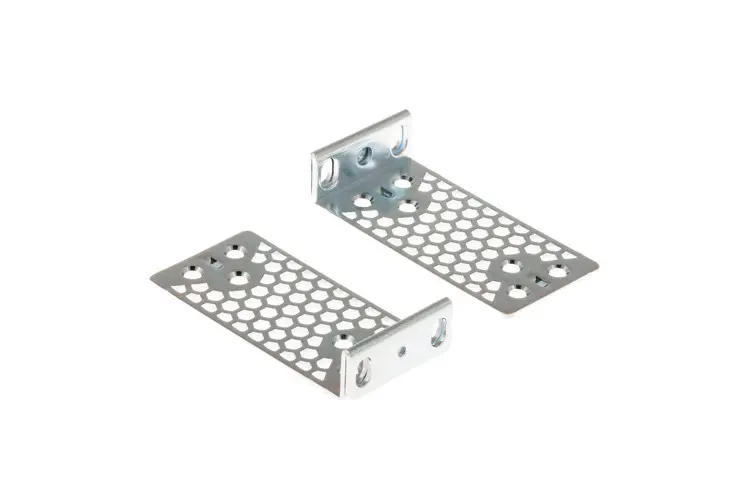 6,465 In Stock - Ships Tomorrow
Same Day Shipping till 6pm
Quick Specs
| | | | |
| --- | --- | --- | --- |
| Series | Catalyst 2960-X | Equipment Type | Cisco Switches |
| Compatibility | Cisco | Brand | CablesAndKits |
Description
RCKMNT-1RU-2KX | Cisco 2960X Series | 19 Inch | Rack Mount Kit | Compatible
The Cisco Catalyst 2960-X are Ethernet series switches that helps the user to connect devices such as Cisco IP Phones, Cisco Wireless Access Points, workstations, and other network devices such as servers, routers, and other switches.
For a smoother and uninterrupted network operation the Cisco Catalyst 2960X Series 19" Rack Mount Kit is an accessory that allows you to mount a Cisco Catalyst 2960X switch into a standard 19-inch equipment rack. The kit includes two brackets and all the necessary screws and fasteners for installation.
The rack bracket can be installed in 3 ways, the front-mounting position, the rear mounting position and the mid-mounting position. It is important however that when installing the rack mount the switch should be powered off and any attached cables be disconnected. The switch should always be placed on a flat surface. The screws are provided for the attachment of both the right and left side brackets.
Once the switch is securely mounted in the equipment rack, you can reconnect the cables and power on the switch. The rack mount kit helps to keep your network equipment organized and easily accessible in a data centre or server room.
Features:
Model No: RCKMNT-1RU-2KX.
Weight 0.28lbs.
Supports Cisco C2960X-Series Switches
2 brackets for left and right mounting are included
Provides organization and Space efficiency
This rack kit fits the following models:
WS-C2960X-48FPD-L
WS-C2960X-48LPD-L
WS-C2960X-24PD-L
WS-C2960X-48TD-L
WS-C2960X-24TD-L
WS-C2960X-48FPS-L
WS-C2960X-48LPS-L
WS-C2960X-24PS-L
WS-C2960X-24PSQ-L
WS-C2960X-48TS-L
WS-C2960X-24TS-L
WS-C2960X-48TS-LL
WS-C2960X-24TS-LL
WS-C2960XR-48FPD-I
WS-C2960XR-48LPD-I
WS-C2960XR-24PD-I
WS-C2960XR-48TD-I
WS-C2960XR-24TD-I
WS-C2960XR-48FPS-I
WS-C2960XR-48LPS-I
WS-C2960XR-24PS-I
WS-C2960XR-48TS-I
WS-C2960XR-24TS-I
Warranty
Awesome is GUARANTEED.
Risk Free Purchase, Hassle Free Returns. AWESOME is GUARANTEED
After receiving your order, take a full month to try it out. If you decide it's not right for you, or if you're not completely satisfied in every way - if it's not AWESOME, we'll take it back and refund your money. Your complete satisfaction is GUARANTEED or your money back. That's Awesome.
Awesome That Never Ends.
Everything you purchase from CablesAndKits is covered by a LIFETIME Warranty including a LIFETIME Advance Replacement Guarantee. The AWESOME never ends.
We understand that in the event of a product malfunction or failure long downtimes are not an option. If you experience a malfunction or failure with a product at any point during your ownership we'll ship a replacement the same day you report the issue. We'll even expedite the shipment if requested, with an effort to provide a delivery date and time that meets your needs. That's Awesome.
Terms and Conditions apply. Click here for details.