Cisco 3560X/2960X Compact Switch Accessory Kit
Model: RCKMNT-CMPCT-USB-KIT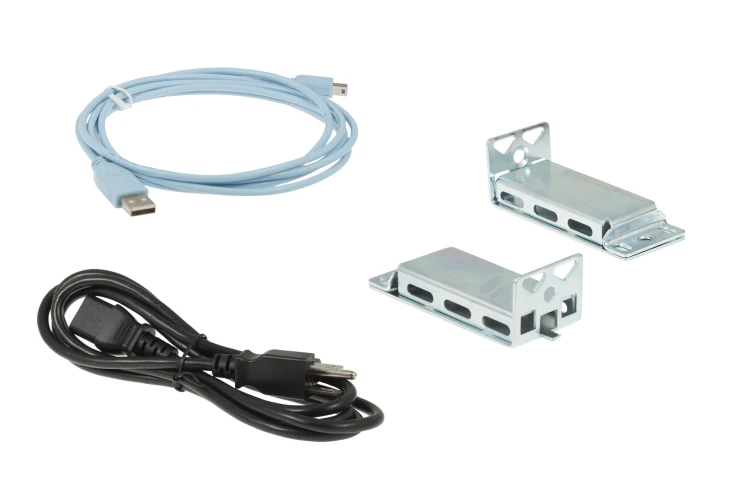 18 In Stock - Ships Monday
Same Day Shipping till 6pm
Quick Specs
Series
Catalyst 2960-X
Compatibility
Cisco
Brand
CablesAndKits
Description
Cisco 3560X/2960X Compact Accessory Kit | RCKMNT-19-CMPCT= | AC Cord | USB Console Cable
The Cisco Catalyst Compact Switches are developed for an easier expansion of your Ethernet and Multigigabit Ethernet infrastructure outside the wiring closet to enable new devices, extend wireless LANs, and connect PoE devices. These fanless, SFP switches are ideal for deployments where multiple cable installation would be challenging. The switches provide a maximum speed of 10Gbps and support the current and next-generation wireless speeds and standards (including 802.11ac Wave 2) on existing cabling infrastructure.
The Cisco 3560CX/2960CX Compact Switch Accessory Kit is a set of accessories that are designed to help the installation and operation of the Cisco Catalyst 3560CX and 2960CX compact switches.
The accessory kit includes an AC power cord which connects the switch to an AC power source. It also includes a Rubber foot which is used to stabilize the switch when placed on a desk or on a flat surface. The switches are rack-mountable therefore a standard 19-inch equipment rack is provided in the set.
The kit also includes a serial cable for connecting the switch to a console or terminal for initial configuration and management. For installation purposes a cable guide is provided which is used to organize and route cables connected to the switch.
Accessory Kit Includes:
Features:
AC power cord: This is a power cord that connects the switch to an AC power source.
Mounting brackets: These brackets enable you to mount the switch to a wall or other flat surface.
Console cable: This cable is used to connect the switch to a PC or laptop for initial configuration.
Documentation: The kit also includes documentation that provides information on installation, configuration, and troubleshooting of the switch.
Compatibility:
WS-C3560CG-8TC-S
WS-C3560CX-8TC-S
WS-C3560CG-8PC-S
WS-C3560CX-8PC-S
WS-C3560CPD-8PT-S
WS-C3560CX-8PT-S
WS-C2960CG-8TC-S
WS-C2960CX-8TC-S
WS-C3560CX-8TC-S
WS-C3560CX-12TC-S
WS-C3560CX-8PC-S
WS-C3560CX-12PC-S
WS-C3560CX-12PD-S
WS-C3560CX-8PT-S
WS-C3560CX-8XPD-S
WS-C2960CX-8TC-L
WS-C2960CX-8PC-L
Warranty
Awesome is GUARANTEED.
Risk Free Purchase, Hassle Free Returns. AWESOME is GUARANTEED
After receiving your order, take a full month to try it out. If you decide it's not right for you, or if you're not completely satisfied in every way - if it's not AWESOME, we'll take it back and refund your money. Your complete satisfaction is GUARANTEED or your money back. That's Awesome.
Awesome That Never Ends.
Everything you purchase from CablesAndKits is covered by a LIFETIME Warranty including a LIFETIME Advance Replacement Guarantee. The AWESOME never ends.
We understand that in the event of a product malfunction or failure long downtimes are not an option. If you experience a malfunction or failure with a product at any point during your ownership we'll ship a replacement the same day you report the issue. We'll even expedite the shipment if requested, with an effort to provide a delivery date and time that meets your needs. That's Awesome.
Terms and Conditions apply. Click here for details.